We always pursued social, environmental, and economic sustainability targets: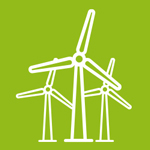 We contribute to the efficient diffusion of wind power by developing innovative blades that allow a better exploitation of the wind resource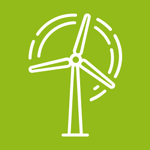 We have introduced re-blading as a key enabler solutions to extend the life cycle of the wind plants, making them even greener and greener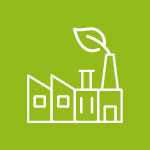 In our blade manufacturing facility, team awareness is highly considered and allows us to guarantee and go beyond the usual HSE standards
We want to do more, we are eTa Green!
Generating minimum waste, re-using it efficiently, choosing durable and low impact materials: we have set the very challenging target of pursuing a regenerative model adopting the principles of circular economy. This is what has inspired eTa Green.
Resources
The waste streams that eTa Green is exploring to turn manufacturing scrap into new resources comes from blade roots, expanded PVC, sanding resin powder, polyethylene bags / lacquers, catalyzed resins, glass fiber scrap, PE tubes filled with solid resin, mixed packs, balsa and wood.
Today scrap is purely cost of disposal: we are convinced instead that we can reduce it significantly entering a logic of circular economy, making the production of our wind energy components even more competitive and sustainable.
We are evaluating the processes of valorisation, recycling / re-use, also in other productive sectors, consistent with our mission, in order to reduce raw material and to give to the production cycle scrap new uses and value.
Cradle to Cradle
eTa Green meets the new European challenge on the circular economy and aims at adopting the best solutions, consistent with its production process and reference market, related to:
Practices / techniques for reducing the waste and raw material volume;

Innovative recyclable materials for the production of new blades;

Existing / experimental start-up opportunities for material recovery – recycling, reuse;

Re-use of the residue within the same eTa Blades or in industrial / handicraft sectors, preferably in their own district context, which can absorb increasing scrap in industrial symbiosis logic;

Carbon footprint, quantifying and progressively decreasing the CO2 emissions